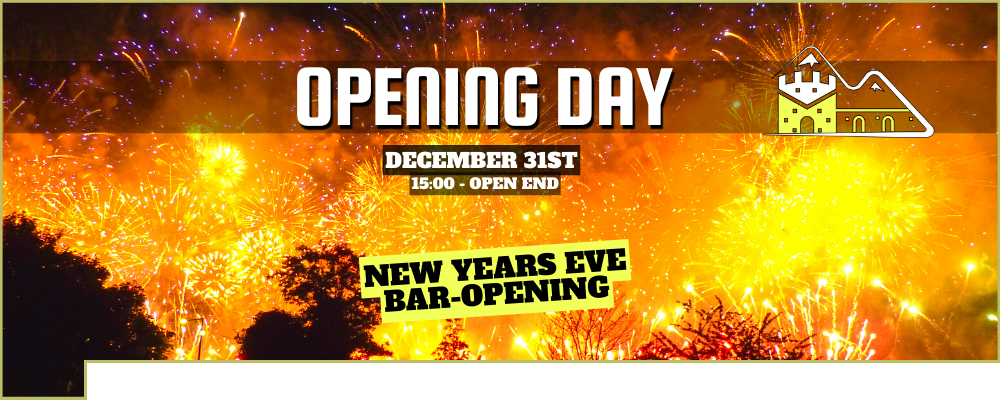 Montenegro Tower bar opening Dec 31st at New Year's Eve!
Due to various reasons, we have decided to move the bar pre-opening to a very special day on this years New Year's Eve! There is some more time needed to get everything ready and for a well-deserved holiday, check out this post on the details and let us know in the comments if you already have plans for this years New Years eve in Montenegro!
PRE-OPENING DATE: 31 DECEMBER 2022 (FACEBOOK EVENT)
We would like to provide some more background on the current situation and the decision to move the pre-opening date to the end of the year. Please be a bit more patient before coming over and hopefully this will be the last delay, fingers crossed! 🙂
Further delays in construction: the final stages of the house took a bit longer, as usual in the construction world in Montenegro. We are slowly getting used to that fact but since its literally only the water pump missing that needs to be installed, we expect no further delays on this front.
Finding a bartender: we are also still looking for a bartender to join the team for the pre-opening on December 31st and so far, had no luck in that endeavour looking for someone who can speak both Montenegrin and English and has motivation to work off-season. If you know anyone who would fit the job description, please forward him the linked page with our contact details.
Acquiring the bar licence: the Montenegrin slow-moving authorities are also a part of postponing the opening a bit further. We are in the final stages of getting the bar licence to officially be able to sell alcohol and would like to get this done first. The process started around half a year ago and will hopefully be completed very soon now.
Upcoming christmas holiday: due to the initial delay from our originally planned pre-opening date on October 22nd, the timeframe until Christmas has become very small and I have decided to spend some time relaxing at home in Germany for Christmas before opening the bar. It has been a very busy and stressful year and probably a good idea to get some rest before transitioning into the daily bar business.
We hope you will join us for the bar pre-opening on New Year's Eve – a great day to kick the project off! We will offer alcoholic and non-alcoholic drinks as well as snacks with an amazing ambience and view from the tower. Some further dinner food options and perhaps even a small firework are in the works as well with updates to follow closer to the date at the facebook event linked below.
FULL-OPENING DATE: 01 MAY 2023
After the pre-opening, we will continue working on the property. The main task will be to renovate the tower stone house building as well as finishing up more stone walls and terraces. Later on in spring, we will also add the wooden cabins and swimming pools as well as the outdoor gym, getting everything ready for the full opening on May 1st 2023. During this transition phase in the winter and spring, you can already come by and enjoy the small bar and the very spacious outdoor area. That's it for now, we hope to welcome you soon 🙂