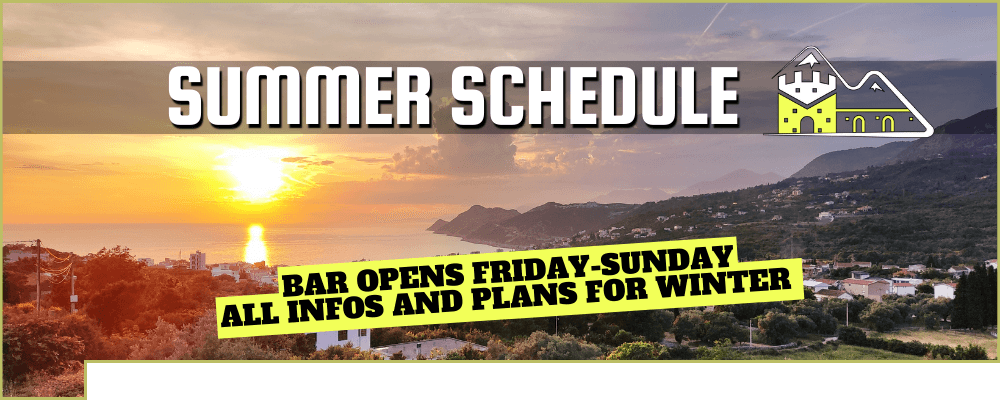 Weekend-only schedule during summer season 2023
Please note that the Montenegro Tower bar will switch from a six-day week to a three-day week schedule starting tomorrow. The bar will open between 17:00 – 23:00 on Fridays, Saturdays & Sundays. Keep on reading below for the reasons behind this decision and when we will switch back to a full schedule.
1) STONE HOUSE CONSTRUCTION / RENOVATION
The main reason for closing the bar during the weekdays is to have more time working on the stone house and get all the renovation done for the winter season. With temperatures hitting 35°C in recent days, it will be much more pleasant to work for my construction crew and myself during the evening and night hours when the bar would have been open usually.
2) IT IS LESS BUSY DURING THE WEEKDAYS
With summer arriving in Montenegro, I have noticed that less people visit the bar during the weekdays. People enjoy the beaches and based on my own experience, even doing nothing at all except lying at the beach in the sun can drain energy. Some might not be motivated or energized enough to leave the house again in the afternoons again for a drink. There are also more events organised by the city of Bar and many will choose to go on a trip to the mountains more often during the summer time than during the winter time.
3) TIME TO RECHARGE MY INTERNAL BATTERY
Changing to a weekend-only schedule will allow me to find some more time for myself as well. I have taken just one day off in the last 20 months and been working 7-day weeks with 12-18 working hours per day ever since. Thinking about that now, it seems crazy that I could keep this up for so long, but with less people visiting the bar now in the summer months, I thought it would be a great point in time to allow more time for myself. I will finally be able to do things outside of my project and meet friends, making deeper connections to both people and the nature in Montenegro. I already planned a trip into the mountains with my tent as a first activity next week and am pretty excited about it to be honest!
4) WHAT WILL CHANGE IN THE BAR
With the changed opening schedule, there will also be a few changes to the bar that I would like to point out here:
~ Some weekly events will disappear with less available days. Instead, I am planning to do more special events that are not repeating weekly and will post them on the Facebook page and Telegram group. As the friday camp fire is the main event now and includes a guitar jam session, it was okay to remove the Monday jam session. Also remember that we always have guitars available and can play and jam on the weekends as well without having an event for it. The Wednesday board game evening did not see a lot of people since summer started and we will roll it out as a weekly event in the winter again. For now, please note that we still have a lot of games available and some guests are very eager to keep playing. So I suggest to use our Telegram channel to set up sessions on the weekend going forward.

~ The Sunday coffee & cake event will be removed and the bar will also open from 5PM just like on Friday and Saturday. This will help to reduce confusion and my original reason for having it earlier was that the days were shorter when I started doing it and now in the summer, there is no need for it anymore. Please note that I will keep ordering the crowds favorite carrot cake as well as cinnamon rolls and spice breads for a fresh delivery each Friday!

~ The Coworking space will still be available during the entire week. As this is a part of the business that I am also not yet actively advertising until the stone house has finished and is ready to use, feel free to contact me to get you set up. The good news for now is that you can keep working even during the evening hours from Monday to Thursday now without any bar guests coming in from 5PM.

~ The new opening times will also allow more time for private events. With two weddings and one big company workation already booked in for this September, I have noticed that the location is already in high demand now to be booked for private events. We also already had a first birthday party on an off-day in the Bar and it has been a great success. If you would like to rent out the space for one of your events, you can check out the rates on the Contact page and get in touch with me from there.

~ And last but not least, we will also add a happy hour on all three opening days from Friday to Sunday with 25% off most alcohol drinks from 17:00 – 19:00. You can see our updated menu and all the happy hour items right here.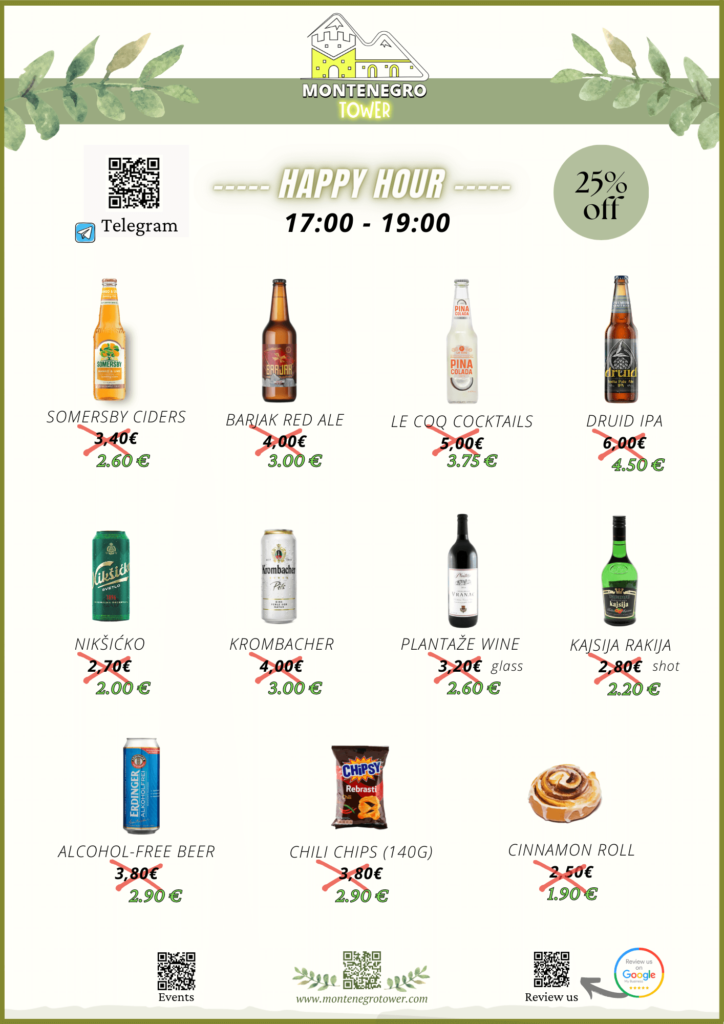 5) WHAT YOU CAN EXPECT FOR THE WINTER
We are working hard to get the old stone house and tower ready for you guys to enjoy this winter. As of now, we are completing all the stone work including an amazing fireplace to enjoy in the colder days in winter. The toilets have been added as well, but still need to get the ceramic work and facade done. Other than that and the remaining stone work, the only thing missing is to put in a floor and then we can start with the delivery of all the furniture. Due to the fact that it will get very hot in July and August, I already expect things to move a bit slower when it comes down to my partners. For myself, I will keep working in the evening times for you and can finish a lot of the outstanding work on my own. It would be great to have the house ready for the first wedding in September as a best case scenario, but at the very latest on November 1st, we will hopefully (and more realistically) have it all ready to go and be able to sit in the stone house with way more space than the current bar. Just as a quick info, instead of ~30 people we will be able to have around 80 people in the inside area and then another 60 people in the outside area located in the tower. So much more space! Once the parking situation has been solved as well, I will then finally start opening up officially with a proper event and also do advertising for the business outside of my social media as well as putting up signs on various streets in the area.

Thats it for the update, I hope you can understand why I am moving to a weekend-only schedule for now in the summer and then – if everything is going well – we will be back to a six-day week from the winter season!

Thanks for everyone coming by to support my project in these early stages and I hope to see you on any of the upcoming weekends again then.
Cheers,
Chris